Must Read: The apartment stock in the US continues to tilt more heavily towards the high end as time goes on. This passage from a Marketwatch article about how the mix of renters in the United States is skewing wealthier is concerning:
As a result, construction activity has concentrated on the upper end of the market, with builders focusing on building amenity-rich apartment buildings in popular neighborhoods designed to appeal to this higher-income renter — and fetch a higher rent. Institutional investors have also bought up a larger share of the country's rental housing stock, renovating many of these units in order to convert them into properties that can charge a higher rent.

That's caused the nation's supply of low-cost rentals to shrink quickly. Low-cost rentals only made up 25% of the nation's rental stock as of 2017, down from 33% in 2012. The largest declines occurred in states not known for their high-end housing markets: Iowa, Montana, Nebraska, North Dakota, Oklahoma and Texas.
Economy
Open to the Idea: Coronavirus has now made a June Fed rate cut – once considered highly unlikely – a distinct possibility. See Also: Coronavirus fears about slowing global trade have dropped the Baltic Dry Index to an all-time low. But See: The most likely cause of the next recession is likely Fed overreaction to economic data.
Bumping Along the Bottom: Weekly initial unemployment claims continue to come in at or near historically low levels.
Commercial
About Face: Chinese companies spent tens of billions of dollars between 2013 and 2017 on trophy American skyscrapers, luxury hotels and pockets of land where they intended to build residential towers in a mad dash to get capital out of their country. That trend has turned hard and the Chinese became net sellers of American real estate for the first time in years in 2019. Today, foreign investors are approaching the US with caution thanks to concerned about high prices and new regulations. (h/t Jeff Lemieux)
Double Down: In the last decade, numerous retail chains have filed for bankruptcy protection twice as they struggle with rising debt loads and competition from eCommerce.
The Beat Goes On: Despite constant chatter about being late in the current cycle, UCLA economists are still forecasting a strong commercial real estate market for California in the coming years.
Shortcut: After the WeWork debacle, property startups are increasingly looking to special-purpose acquisition companies or SPACS – listed entities, also referred to as blank-check companies that exist for the sole purpose of merging with a private business to take it public as a way to bypass months of scrutiny and road shows in order to go public.
Residential
Bounce: Framing lumber prices are heading higher again.
Don't Call it a Comeback: After mostly taking it easy last year, multi-family investors are looking to be a buying force in 2020.
Profiles
Anything Not Tied Down: Leverage is exploding in the fine art world as wealthy collectors turn to their pieces as a source of cheap capital.
This is Art: An artist threw some old phones in a squeaky wagon and made Google Maps think it's seeing a traffic jam—proof that big data can make some big mistakes.
What's In a Name? Start-ups want unusual internet addresses to help stand out. One winner: The island of Anguilla, whose ".ai" domain is a favorite of A.I. start-ups and is able to charge them for the right to use it.
Hero: Defensive tackle Derrick Nnadi of the Chiefs celebrated his Super Bowl win by paying the adoption fees for all the dogs in one Kansas City shelter, instantly becoming my favorite non-Giants player in the NFL.
Chart of the Day
Choppy data set but this probably doesn't bode well for the future.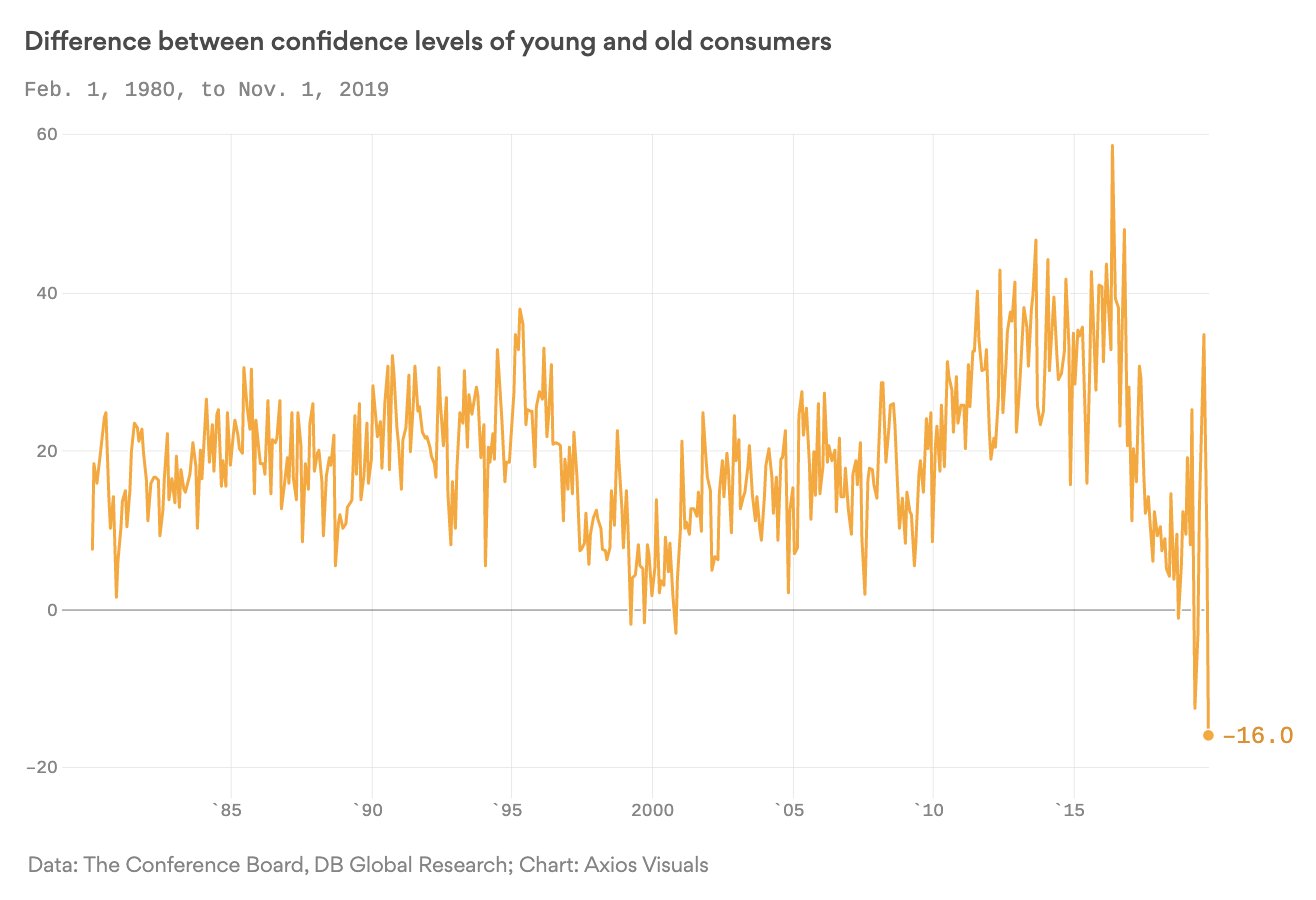 Source: Axios
WTF
Gotta Hear Both Sides: A fight over bacon led to a knife attack because Ohio.
That Stinks: A woman was arrested for smearing dog feces in her fiance's face during an argument because Florida.
It's Not Supposed to Be This Easy: Police found a narcotics stash inside a pouch labeled "Bag Full of Drugs" during a traffic stop because Florida.
Landmark Links – A candid look at the economy, real estate, and other things sometimes related.
Visit us at Landmarkcapitaladvisors.com