One Big Thing
Despite the fact that over 20MM people lost the jobs in April, early rent collection data for May looks surprisingly good, once again defying the doom and gloom predictions for Class B and C apartments. Here is the key portion from NMHC's release (emphasis mine):
The National Multifamily Housing Council (NMHC)'s Rent Payment Tracker found 80.2 percent of apartment households made a full or partial rent payment by May 6 in its survey of 11.4 million units of professionally managed apartment units across the country.

This is a 1.5-percentage point decrease in the share who paid rent through May 6, 2019 and compares to 78.0 percent that had paid by April 6, 2020. These data encompass a wide variety of market-rate rental properties across the United States, which can vary by size, type and average rental price.
I was surprised when I first saw the number come in this good. After all, in a world where unemployment is now well into the teens and 41% of Americans apparently couldn't cover a $1,000 emergency out of their savings, it doesn't make much sense that there aren't more missed payments. While some of this is likely attributable to an increase in paying out of savings or borrowing (credit cards), there had to be another reason. As you take a closer look last week's employment report, along with some analysis of the federal rescue package, it becomes more clear.
First off, it's been well-documented that generous (and temporary) enhanced unemployment benefits, coupled with the one-time $1,200 per adult payment have put lower-earners in the bizarre situation where they are actually better off not working in the short term. This chart from JBREC that I posted last week is a great visual.
As noted above, 64% of workers earn less than $60k. The next piece of this puzzle is to determine where layoffs have hit the hardest. With that, I bring you today's Chart of the Day, which is also posted below: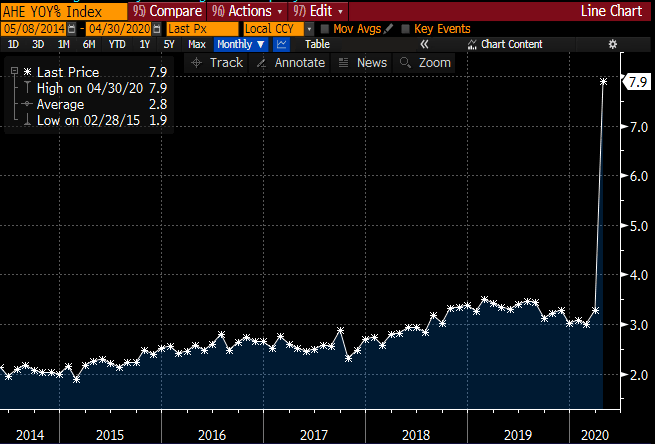 So, what is this chart telling us? Do any of you actually believe that the American workforce received a nearly 8% raise last month? Me neither. Hint: this is the highest bump in average hourly earnings in history, the previous high was in January of 2009 (spoiler: that wasn't a result of an actual increase in wages either). What this chart is actually telling us is that the layoffs and resulting unemployment are massively skewed to the lower end of the payroll spectrum – if you remove a large portion of the lower earnings populace from the workforce in proportion of higher earners, wages will shoot up, just as they did in April.
With these two data points, we are able to determine that unemployment has disproportionately impacted those who are most likely to see a temporary bump in take home pay, which explains why rental collections have been better than expected. Higher wage earners largely aren't getting laid off so they are paying. Lower earners are getting laid off in relatively high numbers but are actually taking home more (again, temporarily) so they are paying as well. Viewed in this light, it makes sense that historical correlation between unemployment and payment of monthly rent has broken down.
The important question is what happens when the temporary unemployment benefits end in July. I believe that there are 3 possible outcomes:
Companies hire nearly all of their old employees back and rent collection goes back to historical monthly averages once state restrictions have been lifted. I hate to break it to you but this isn't going to happen.
Enhanced unemployment benefits are extended and/or Congress passes direct renter assistance in another pandemic relief package. While there is a lot of political jawboning going on, I think that there is a good chance of this happening but it won't until the 11th hour, if at all. Side note, this debate will take place well into the political silly season in a general election year – yet another wild card.
The enhanced unemployment benefits expire, some workers get hired back, others don't. The unemployment rate drops below where it is today but is substantially higher than it was in February and missed rental payments spike, especially in Class B and C units where most of the rental base is made up of lower earners.
In light of this dynamic, I think that June and July's rent collection numbers will look roughly the same as May's. Based on this month's employment report, the real date to watch will be August (or possibly September depending on savings patterns). If the economy isn't bouncing back substantially by then or benefits aren't extended, that's where we could start seeing some real pain when it comes to rent collections. Until then, the next relevant data point that I'll be looking for is the percentage of renters who paid with a credit card in May.
What I'm Reading
Stumbling Block: Coronavirus lock-downs have closed thousands of day care facilities temporarily or permanently, leaving parents searching for solutions as companies begin to reopen.
Bloodbath: A wave of US bankruptcies is building and the worst could be yet to come as COVID pushes highly leveraged companies over the edge.
Backlash: WeWork members are consulting attorneys about filing a class action suit against the coworking company for continuing to collect fees while businesses are closed.
On The Sidelines: States are starting to reopen for business but banks are largely sitting on the sidelines to wait and see where the market settles out before they jump back into lending again.
Sweet Spot: An analysis from Moody's Analytics says suburban offices might come back into favor over central business district spaces due to the coronavirus pandemic.
A Glimmer of Hope: Hotel occupancy rates declined 58.5% year over year to 28.6%, but week to week comparisons showed a third consecutive increase in room demand.
Back to Work: When the coronavirus pandemic first forced states to issue stay-at-home orders, so-called iBuyer companies quickly stopped purchasing homes in anticipation of major upheavals in the U.S. housing market. Now they are resuming operations as markets were not disrupted as much as initially feared.
Chart of they Day
Skewed stat of the week – average hourly earnings are up 7.9% year over year. Why? Because the vast majority of layoffs are happening among lower income earners. As a point of reference, the previous high was back in January 2009 and this is more than double that number.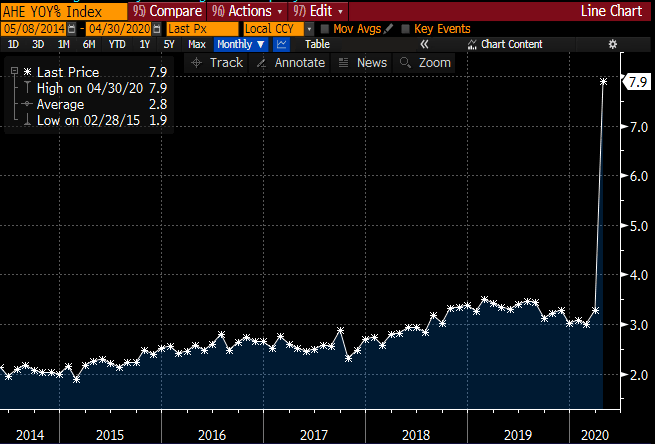 Source: @BChappatta
WTF
What Could Go Wrong? San Francisco is giving free drugs and alcohol to homeless people quarantining in hotels in an effort to keep them from going outside.
There Are Prescriptions For That: An Ohio woman is facing multiple charges after allegedly calling 911 and requesting that the fire department put out a fire in her crotch.
Landmark Links – A candid look at the economy, real estate, and other things sometimes related.
Visit us at Landmarklc.com