Lead Story: Like many of you, I've been closely monitoring the impending catastrophe that is the WeWork IPO. Over the past year, WeWork's largest investor, SoftBank committed to invest $4 billion in the company and spend $1 billion to buy shares from employees and existing investors at an obscene value of $47 billion. What is often misunderstood about this investment is that it was mostly just smoke and mirrors since it was made as preferred equity.
Now WeWork is about to kick off its road show and investors are pretty much universally balking at the nosebleed price tag that the company is aiming for in its public offering. As a result, parent company We Co. is considering cutting its valuation ask by more than half – from $47 billion to $20 billion. IMHO, that is a good start but not nearly enough. This thing is probably worth $2-3 billion based on price to sales metrics and could maybe get to $10 billion under the most insanely bullish scenario. Typically such a chilly reception would mean that the IPO would be put off to a later date but WeWork's relentless burn rate likely means that it will have to go forward with the IPO unless SoftBank makes another massive investment.
See Also: Real estate billionaire Sam Zell on WeWork – "Every single company in this space has gone broke."
Economy
False Signal? Long-term bonds have been on a tear in recent weeks with yields tumbling enough to heighten fears of a possible recession ahead. However, a substantial portion of the move may have come from large purchases from pension funds and insurers that sell annuities and needed to buy treasuries in order to keep their portfolios balanced. See Also: Negative interest rates are toxic to a financial system built upon the concept of positive interest rates. And: The recent experience of Japan suggests that negative interest rates decrease, rather than increase immediate and medium-term expected inflation.
Leaving a Mark: Tariffs are beginning to put a noticeable dent in consumer sentiment as the measure fell to its lowest level since October 2016.
Winners and Losers: The decade-long economic expansion has enriched a substantial portion of the American population. However, the bottom 50% of all US households still has 32% less wealth, adjusted for inflation, than in 2003.
Commercial
Not Seeing the Benefit: The Opportunity Zone program was supposed to direct capital into under-invested regions. However, so far much of it has gone to higher-end projects in already-gentrifying areas.
Alternate Use: Some builders are swapping cement for hemp in an effort to reduce pollution.
Risk Transfer: The most charitable way to look at WeWork's terrible balance sheet – they have the 3rd largest lease commitments of any company in the world – is that it takes lease liabilities onto its balance sheet so that corporations can avoid having them on theirs.
Residential
Sign of the Times: An investment banker and his wife are buying a new $15MM mansion in Silicon Valley's ritzy Hillsbourough and planning to tear it down and build an even larger one.
Demand Driver: Student housing is worth more at football schools in so-called Power Five conferences according to a new report from CBRE.
Further Afield: Large multi-family investors searching for yield are starting to take a closer look at affordable housing and smaller markets.
Profiles
In the Palm of Your Hand: Online gamblers now account for about 80% of all legal wagers on games in New Jersey, which surpassed Nevada for the first time in May in monthly sports bets, according to figures released by the two states.
Gig Economy: Restaurants that are facing a labor shortage are turning to on-demand services for line cooks, dishwashers and other trained workers.
In Another League: The NFL season is about to begin and Forbes published their annual valuations for every team in the league. The actual values are relatively meaningless since it's impossible to predict the exact circumstances of a bidding war when a team comes up for sale – and they almost always undershoot on this. The more fascinating numbers were on the operating income side. The Cowboys were the at the top of the league in this category at $420MM (they unsurprisingly were the most valuable team as well at $5.5 billion). However, the next highest team was the Patriots at $240MM and no one else came in above $176MM. This is even more incredible when you consider that the Cowboys haven't made it past the divisional round of the playoffs since the early part of the Clinton administration.
Chart of the Day
Who says that we are losing buying power? An hour of work buys more alcohol today than it has at any time in history.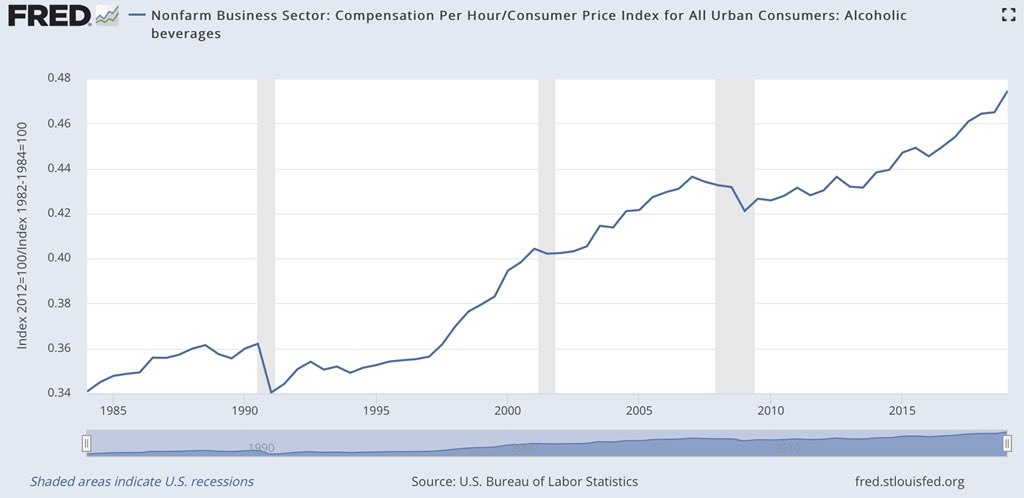 Source: @cullenroche
WTF
Giddy Up: An American Airlines passenger took a miniature horse on a flight as a comfort animal. Say what you will about this but I'm actually pretty impressed that Sarah Jessica Parker still flies coach.
Waterproof: A woman in the path of Hurricane Dorian plastic wrapped her home rather than evacuate because Florida.
Problem Solved: A trailer park resident claims that the Navy could stop hurricanes by dumping a large amount of ice in the ocean because Florida. This could actually work so long as the naval ships dropping the ice don't get too close to the edge of the earth and fall off. (h/t Mike Byer)
Landmark Links – A candid look at the economy, real estate, and other things sometimes related.
Visit us at Landmarkcapitaladvisors.com